Basic lightbar GPS systems are great for simple jobs, but struggle when it comes to more precise tasks. James Andrews looks at the next level of accuracy.

Free satellite signals are plenty of competition between manufactures mean simple agricultural GPS guidance systems are more affordable than ever. For less than £1.000, firms such as Patch-work and Agricision can provide a tablet-based GPS lightbar that will help guide operators in arrow-straight parallel lines with a pass-to-pass accuracy of 20-30cm.
That's precise enough for spinning fertiliser on grassland or spraying off stubble fields, but when it comes to crop establishment, they're a little too vague to deliver tidy results.
Unsurprisingly, plenty of people have had a stab at using them for drilling, either in conjunction with markers or by upgrading to a. more accurate correction signal and focusing on the flashing lights like a hawk. But while this can work well, it's far from relaxing.
Getting the proper benefit of an accurate GPS system means investing in some sort of automated steering device. When teamed with a receiver that's capable of picking up a correction signal with sub-10cm accuracy, the two will work together, providing constant, rapid adjustment that keep the tractor and implement on the corect path.
Accessing the technology generally means dealing with key GPS provides such as Trimble, Topcon, Ag Leader and Raven. However, Dutch/Ukrainian firm eFarmer offers DIY setup.
In all cases, there is a significant jump in price from the most basic offerings, and buyers are introduced to a new world of unlock fees and annual subscriptions for correction signals. These can seem hard to swallow, but the reduction in input costs from fewer overlaps generally results in quick payback times.

Most manufacturers in this sector operate a modular setup, so, once the initial investment has been made, it's less expensive to add the kit onto other machines and access features such as variable-rate application and automatic sprayer section control.

Many people will also purchase a few extra components so the system can be transferred from the drilling tractor to the sprayer and then to the combine.

In this article, we'ew concentrating on the large number of second-hans and new tractors in the UK that didn't come out of the factory auto-steer ready. This means they don't have the necessary smart steeering valves that aftermarket GPS units can plug into.

Although these valves can be retrofitted, the free can run to many thousands of pounds, so in most cases it makes more sense to opt for a motorised system that attaches to the steering column. Early versions of these were a little crude, but current models can deliver accuracy approaching that of integrated arrangements.

We take a look at four setups from the main players in the UK, plus eFarmer's FieldBee option, which can. be ordered from the Netherlands. Discounts are likely to be available on some of the prices quoted and many firms will offer to buy back older displays, which helps lower costs.
Basic GPS No differential correction means accuracy is 2-5cm. Examples include GPS, Glonass and Galileo.

Differential GPS Free correction signals provided by Egnos and WAAS, with 30cm pass-to-pass accuracy (most lightbar systems).

High-perfomance differential GPS More accurated subscription-based correction signals, provided by the likes of Omnistar, offer pass-to-pass accuracy of 15cm to 2.5cm.

RTK The most precise and consistent correction signal, with repeatable accuracy of 2.5cm or less. It requires a base station or a subscription to access others.

Most manufacturers have networks and there are a number of independent options. The signal can be sent over short distances by radio and futher with mobile internet.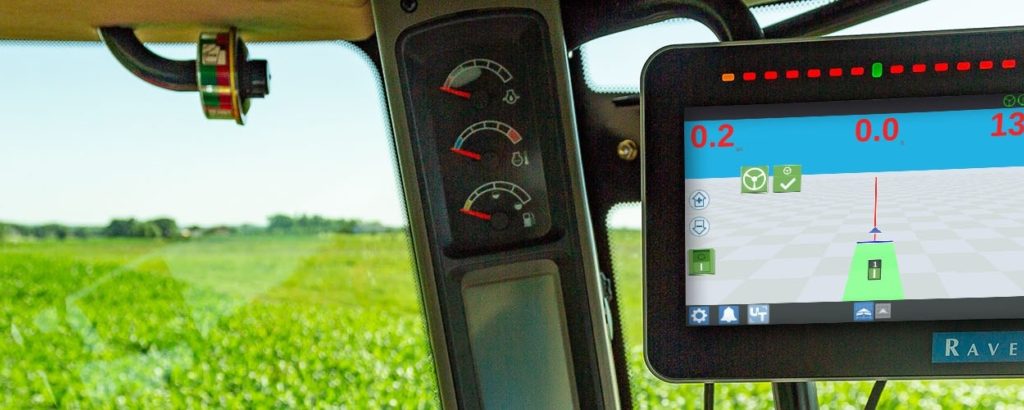 Raven GPS systems are available in the UK through Dempsey Precision, which is run by Vince Dempsey.

Display There are two auto-steer-compatible displays from Raven – the 7in CR7 and the 12.1in CR12. Both work with the firm's high-accuracy GS correction signal, and with the relevant unlock codes and antenna they cost £1.680 and £6.410 respectively. The CR12 includes more features that the CR7, but the smaller screen can have a number of upgrades, including unlocking the variable-rate controller at a cost of £780. Both screens can be made Isobus compatible for a one-off fee of £820.

Signal Raven's GS correction offers pass-to-pass accuracy of 4cm or less, making it well suited to most drilling jobs. An annual subscription is £1.230, but there is the option of having it for three months at a cost of £495. In this instance, the system will still work on Egnos with 30cm accuracy for the rest of the year.

For those who want year-on-year repeatable accuracy, it can be upgraded to RTK.

Steering system Raven offers a boil-on steering wheel kit but, in most cases, Dempsey Precision reccommends fitting non-auto-steer-ready tractors with an integrated hydraulic steering valve. This operates like a factory-fitter system and is actually slightly cheaper than the steering motor kit. The valve and its ECU hydraulic driver unit costs £1.850, installation is about £900 and there is roughly £250-worth of the pipework, depending on where the valve themselves. Opting for an MD electric steering wheel system is £200 more, but the benefit is that it's simpler and cheaper to swap between machines. Basic transfer kits start at about £530.


Guideline prices
System price £10.110 – including CR7 displays with retrofitted hydraulic auto-steer system, one-year GS signal subscription and installation (based on a Massey Ferguson 7618)

Optional extras Hydraulic transfer kit, allowing the system to be mowed to another tractor – £5.250 (based on Massey Ferguson 7620) including pipes and installation.

Ongoing subscription Raven GS correction signal – £495 for three months, £1.230 for 12 months, £3.360 for three years, or £5.240 for five years.


Optional to hire
For those who don't want the capital outlay of a full auto-steer system, Dempsey Precision offers a couple of hire options, both of which it supplies with RTK correction signal.

For tractors that aren't auto-steer ready, the owner needs to commit to have the system for a minimum of three years. Dempsey Precision will then install a hydraulic steering valve and charge a £1.500 for the autumn.

Those operators with an auto-steer-ready tractor only need to commit to six months at at time, at a cost of £1.500.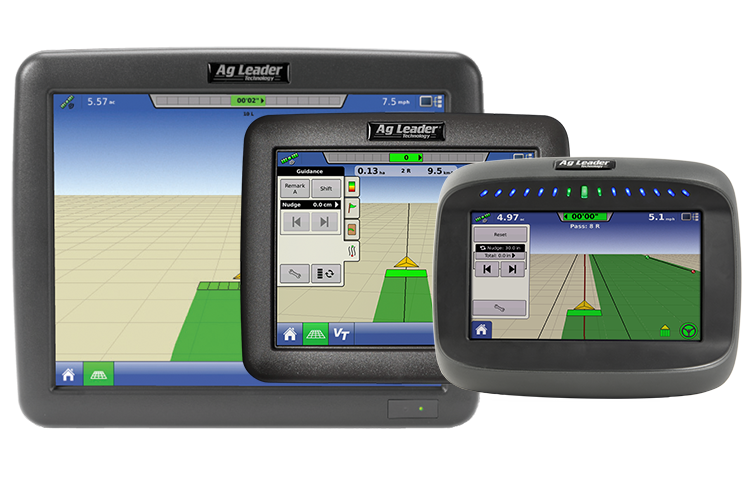 Ag Leader products are sold in the UK via Cumbrian dealer Precise Solution, headed by Derek Johnson.
Display
Two displays are offered, both of which are capable of RTL guidance. The Compass is the entry-level model, with a relatively small screen and limited functions, while the large, tablet-like in Command brings a few more features, such as a split-screen view that allows simultaneous monitoring of Isobus implements. Both units have a field finder that automatically selects the field from a list, as well as the ability to record field sizes and boundaries. Prices for the Compass start at £1.963 (guidance only) and with the hardware for RTK jump to £7.883. Upgrading to the In Command display costs an extra £1.200.
Signal
The firm's Terrastar-C Pro signal offers 2.5-5cm pass-to-pass accuracy, suitable for drilling. However, according to Precise Solutions, the relatively small jump in price to its RTK setup tempts many buyers to upgrade. Its also removes the worry of lost signal and time spent waiting for the receiver to acquire it. Buyers can connect to their own compatible base station or access Precise Solutions' RTK network, which covers the UK and Ireland. Annual subscriptions for this are £650, which includes data SIM cards and remove support for the steering system. Those with In Command displays also get satellite imagery.
Steering system
For tractors that aren't auto-steer ready, Ag leader offers its Ontrac 3 bolt-on steering wheel and there is a clip-on drive unit to control turning. The original wheel can be retained and swap-ping to another vehicle is pretty simple.
Guidelines prices
System price £12.990 – Including Compass display with relevant licences, auto-steer system, one-year Ag Leader RTK subscription and installation (based on an MF 7618)
Optional extras Transfer Kit for fitting to another tractor – £1.243 (based on an MF 7618))
Ongoing subscriptions Ag Leader mobile RTK signal – based on an MF 7618)650/year or a subscription to another compatible network.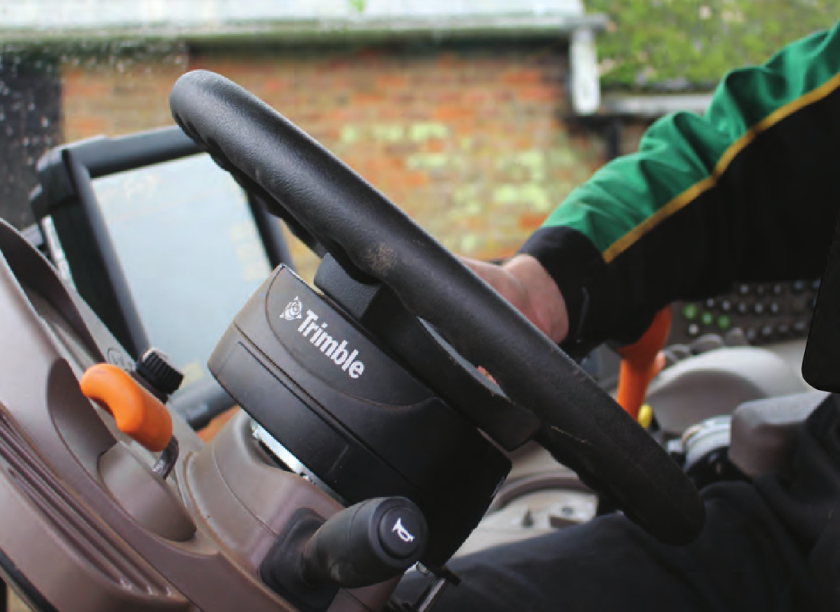 Trimble's agricultural GPS equipment is sold by Soil Essentials in Scotland and Vantage England and Wales south of the border.

Vantage England and Wales is a subsidiary od Cambridgeshire-based precision farming firm AS Communications, and was formed purely for the Trimble side of the business. The Irish market is served by Vantage Ireland.

Display Trimble offers four displays that are capable of receiving correction signals accurate enough for drilling. Prices for these start at £4.595, but buyers will also need to pay an unlock/license fee before the display can access more accurate signal So realistically, the fees for displays capable of drilling accurate range from £4.534 to £6.946 According to Vantage, the GFX 750 is one o the most popular for this sort of setup, as it has a large display, runs the newer-type Precision IQ software and can be upgraded in the future. It costs £6.141, including a licence for the firm's Centrepoint RTX signal

Signal The first step up from the free Egnos signal is Trimble's Rangepoint RTX that offers sub-15cm accuracy

Apparently, some customers are able to drill successfully with it, but the Centrepoint RTX with sub-2.5cm pass-to-pass accuracy is the better bet. This comes in in "standard" and "fast" versions, with the latter offering a quicker convergence time for more precise work and year-on-year repeatability.

The next step up in UK is RTK, which has an instant convergence time and no satellite drift, making it well suited to controlled traffic farming systems that confine vehicles to the same lines year after year.

The mobile version requires an additional GMS modem and has a £750/year subscription fee. Radio versions work over shorter distances and fees are at discretion of the individual or firm that owns the mast

Steering system There are two systems on offer from Trimble. the simplest of which is the friction-drive EZ-Steer unit that's been around for years. It's basically a motor with a foam rubber wheel on the end that engages with the steering wheel

It is capable of driving accurately enough for drilling duties, but as it is still relatively expensive, many buyers go for the EZ-Pilot version that mounts directly to the steering column in place of the original wheel.

The EZ-Steer costs £2.500 with GFX 750 display and the EZ-Pilot with Pro operating software is £3.396.

Guideline prices System price £13.358 – including GFX 750 display with relevant licences, auto-steer system, one-year Centerpoint Fast subscription and installation (based on a Massey Ferguson 7618)

Optional extras Transfer Kit allowing system to be mowed to another tractor – £1.361 (based on a Massey Ferguson 7618)

Ongoing subscriptions Centerpoint correction signal – £650/year.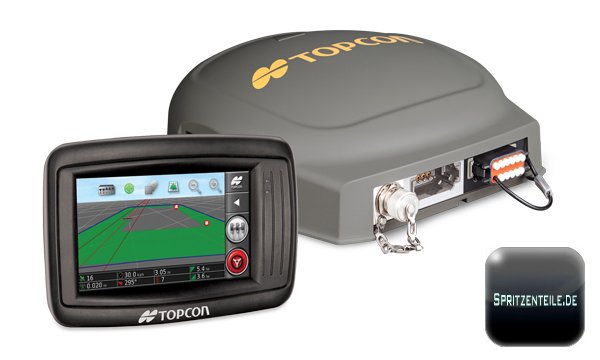 Cambridgeshire-based specialist LH Agro distributes aftermarket Topcon Agriculture Kit.
Display
Topcon offers two displays capable of auto-steer guidance accurate enough for crop establishment. The key difference is screen size, with the X25 measuring 8.4in and X35 12.1in. However, the X35 also has come extra features, mainly teh inclusion of Task Control (section and rate control) for Isobus implements as standart. The X25 costs £4.679.
Topcon's AGI-4 GPS receiver is separate to the display and features a built-in steering controller. This can handle most auto-steer-ready vehicles without additional hardware. The AGI-4 also houses teh licence for the relevant correction signal. Configured for RTK, it costs £9.675
Signal
Topcon's medium-grade Topnet Global D correction signal offers 8-10cm accuracy, meaning it's just about precise enough for drilling. However, its activation fee is close to that of an RTK setup, so, in most cases, it's worth upgrading and getting 2.5cm accuracy.
The firm has a network of base station across the UK that can communicate with the tractor via radio signal or the mobile phone network. An annual RTK subscription cost £650 and, if required, this includes data and a roaming mobile SIM card that works across all networks
Steering system
The AES-35 electric steering wheel system is a simple option to convert tractors in place of the origional wheel.
The basic unit costs about £3.500, with some slight variation on price dependong on teh vehicles. Various adapter bosses are available to fit most machinery makes and buying additional kits can speed up swapping between machines
Guideline prices
System price£12.975 – including X25 display, AGI-4 RTK receiver with NTRIP modem and UHF radio, auto-steer system, one year RTK subscription and installation (based on a Massey Ferguson 7618)
Optional extrasTransfer kit allowing system to be moved to anothertractoe – £595 (based on a Massey Ferguson 7618)
Ongoing subscriptionRTK signal (radio or mobile phone) – £650/year.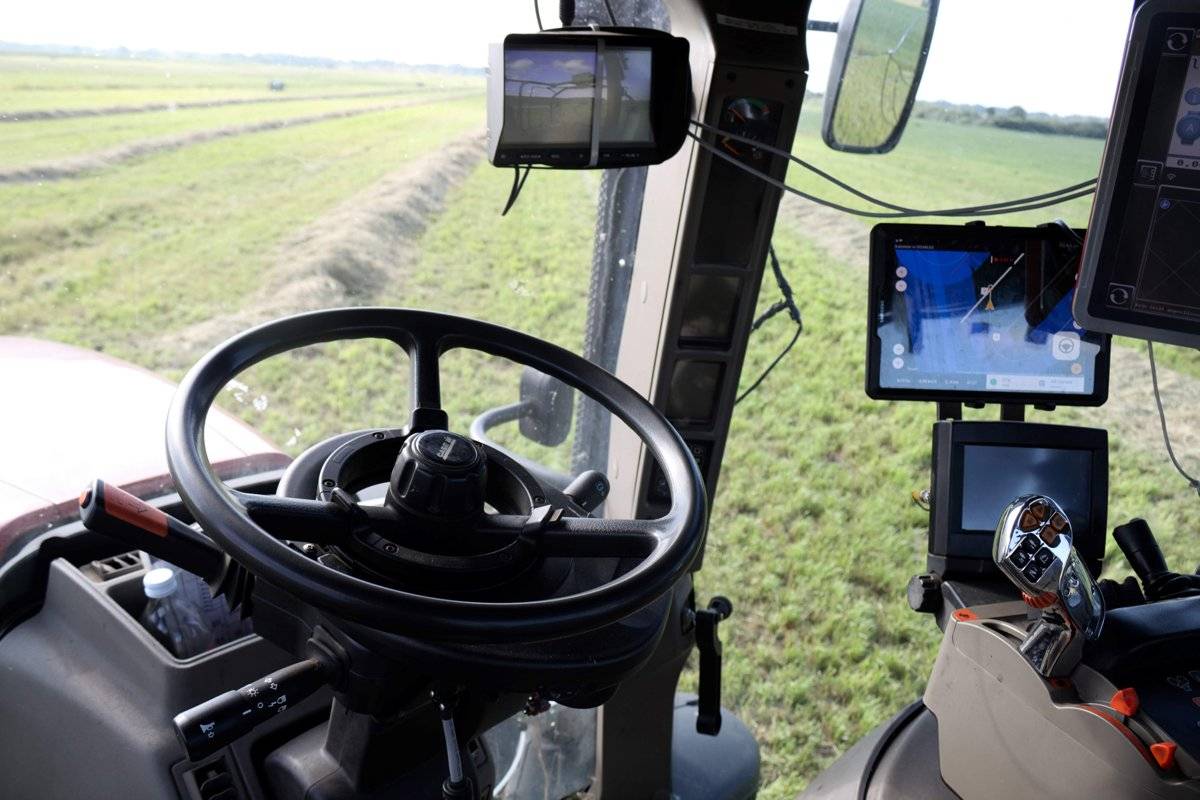 FieldBee

Dutch and Ukraininan precison agricultiral firm eFarmer is one of the few smaller GPS providers than can offer a bolt-n kit capable of autosteering a tractor to RTK accuracy

It was formed in 2014 and now has a number of dealers across Europe selling its FieldBee guidance systems. It is yet to have a dealer in the UK, although is looking to appoint one

This does means buyers will need to fit the system themselves or enlist the help of an agricultural engineer, so there's no easy option of getting the manufacturer to come out and sort any problems

Display

Like some of the other smaller guidance system providers, FieldBee runs all of its guidance through an Android app that can be installed on any compatible tablet or smartphone. The basic version is free to download, but the full-spec option required for auto-steer is subject to a €119(£104)/year subscription

The buyer will need to provide their own tablet, but Android units can be picked up fairly cheaper

Signal

Unlike most of the large GPS providers, FieldBee doesn't use medium-accuracy correction signals that command a subscription fee

Instead, it uses free signals, like Egnos, for lower-accuracy tasks, and RTk where greater precision is required. The firm's RTK setup is a two-tiered affair, starting with an L1 receiver that only gives accurate results in flat fields without obstacles

Those are few and far between in the UK, so its recently introduced L2 receiver is the best bet where drilling accuracy is required – this cost €1.299 (£1.137).

Those who can access a local NTRIP RTK base station (either owned by a neighbouring farmer or a network) can simply pay to access the signal. But where there is no option of this or the buyer would like to avoid subscription fees, there's the option of adding an L2 RTK base station that can be installed at the farm.

This can broadcast its signal over 2.5lm via radio signal or 20km via mobile internet and cost €1.599 (£1.399). Pass-to-pass accuracy is said to be 1cm.

Steering system

FieldBee's steering system is the same bolt-on arrangement that is used by a number of other firm's and is built by AgJunction (formerly Novariant).

This is by far the most expensive part of the setup and costs €5.699 (£4.986), including the fee to unlock it so it works with RTK/br>

It clamps under the existing steering wheel and can be easily removed and transferred to another vehicle

Guideline prices

System price

€7.134 (£6.242) – including receiver, auto-steer system and one-year subscription to premium software (this is a universal kit to suits most tractor models)

Optional extras

FieldBee L2 base station to give subscription-free RTK correction signal – €1.599 (£1.399)

Ongoing subscriptions

€119 (£104) for premium subscription to FieldBee app. plus fees to access local NTRIP RTK signal if no base station is purchased
Subscribe to get more articles like this
By registering, you agree that you Receive marketing emails from FieldBee. You can unsubscribe at any time