Standard Tools Requirements
The installer is assumed to have a complete set of common installation tools including:
#2 Phillips screwdriver
5/32" Allen key
1/4" open wrench
1/4″ wrench
Torque wrench 0 to 20 lbf.in (0 to 2 N.m), for 5/32" hex bit
Vehicle Requirements
Before installing the MDU-G4 system, verify the following items on the vehicle:
The vehicle's steering system is in good working order. Drive the vehicle to verify this prior to beginning the installation. There should be no play in the steering and the vehicle should turn proportionally the same to the left and right.
The vehicle's electrical system and battery must be in good working order.
The vehicle should be fully cleaned before installing the MDU-G4 system. A clean vehicle will improve the overall installation and cable routing
If any issues are discovered with the vehicle, they must be repaired prior to beginning the MDU-G4 installation by a qualified service person for the vehicle.
Note: This installation manual, vehicle specific installation manuals, and sub-kit manuals contain valuable information for servicing the MDU-G4 system. After the installation is complete, store all these manuals in a safe place for future reference.
Vehicle Inspection
Before installing the MDU-G4 system, confirm that the vehicle and the vehicle's steering system are in good working order by driving it around. In addition, verify the following items:
Verify that you can turn the steered wheels from lock to lock.
Record the time it takes to turn the vehicle's steering mechanism (ex. steering axle, articulation point) from full left to full right and then record the time to go from full right to full left as fast as you can manually. This will be used later to ensure steering performance is okay.
Verify the vehicle steers straight and does not pull to one side when driving in a straight line.
Verify that there are no oil leaks.
Check for loose or worn steering components.
If any part of the vehicle is not in working order, have the system serviced by a qualified technician prior to beginning the MDU-G4 installation procedure.
How to install an auto steer?
Take an MDU – mechanical drive units. The installation of MDU takes a fixed part – Gear wheel, which needs to be installed under the steering system.
Attached to the steering wheel.
Tighten an anti rotation brackets. Once you made the installation, connect the MDU to it.
Connect the cable
Enjoy your ride as other clients:
Watch the video for broader understanding (at John Deer 6020).
Can you provide an auto steer installation service?
We provide installation service by partners in Germany, Belgium, Austria, the Netherlands and Ukraine. In other countries, service brings by local specialists with experience of installation auto steering systems by Claas, Mueller-Electronics, Ag Leader, TeeJet.
Become a partner
Do I need to order additional cables?
We offer a full package for your autosteer/autosteer kit, so you do not need to order additional cables.
Which time it takes to install the auto steer kit by my own?
Installation time depends on your tech level. It may take several hours. We highly recommend to go briefly through manual.
How to connect L1/L2 receiver
The ECU-S1 requires the position information from an external RTK GNSS receiver. The receiver providing NMEA messages can be directly connected to the ECU-S1 over the RS-232 Serial interface.
The minimum RTK GNSS receiver configuration requirements are as follows:
38400 bps baud rate; 115200 is recommended;
GGA NMEA messages at 10 Hz;
VTG NMEA messages at 10 Hz;
ZDA NMEA messages at 1 Hz;
Position data resolution must have at least 6 decimal places; 8 places are recommended;
RTK, DGPS, OmniSTAR™ or other correction mode improving position quality is highly recommended.
If you have FieldBee L1/L2 RTK receiver you can find the installation guide here
Figure 1-6 L1/L2 RTK GNSS receiver Connections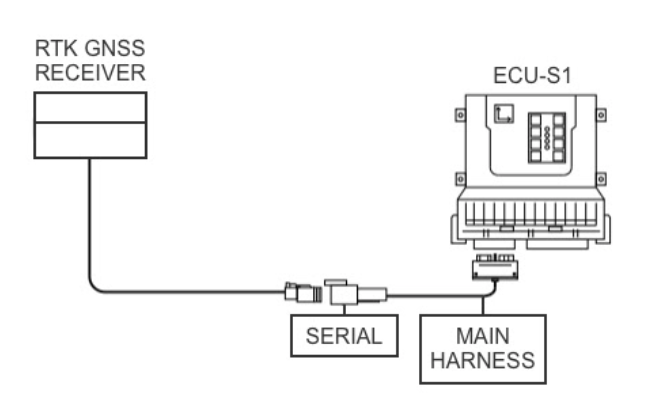 Figure 1-6 shows L1/L2 RTK GNSS receiver connection. Diagram shows the receiver connected directly to ECU-S1.
Please choose your preferred communication method
Congratulations!
Your request has been successfully sent. Our representative will contact you shortly to clarify the details.