Our next BIG project
Since we started our big project to create the autosteer system that every farmer dreams about, you have shared many valuable information and great ideas with us. We are getting closer and closer to understand how you imagine your dream tractor auto steering and what is currently missing from the market.
From our first survey, we learned that you need an affordable, stable and easy-to-use system with high accuracy and easy installation tractor steering system.
In our last blog article we covered the basic characteristics of the ideal steering system for farmers, but that was just the beginning. This time we asked the question:
"what should this system be able to do in order to help farmers the most?"
To get the answers, we went one step further with our latest survey and tried to discover what the must-have functionalities of the automatic steering software are.
We aim to find the right solutions that allow you to manage your farm more effectively, and save time and resources by optimizing all processes.
As a result of some internal brainstorming, we assembled a list of useful functionalities and then it was your turn to tell us what you actually think about each of them.
Of course, all of these functionalities can come handy but not all have the same importance for all farmers. There are some that are essential for everyone regardless of the farm type or size. Most of you would like to see the operations per field in the app together with historical records.
On the other hand, some of these functionalities are only applicable for a smaller segment. For instance, small-scale family farms might never use team management functionality.
So how do farmers from our community imagine DREAM autosteer?
The ideal autosteer software should offer the right combination of these functionalities that integrate into a great system to assist farmer during every farm operation.
Here's how one of our respondents imagine using his dream auto steer with these functionalities:
"The ideal is, you drive into a field, the gps brings up the field, the auto steer asks what are you doing (spreading fertilizers/plowing/ tilling/ spraying/ harvesting etc). It shows the best side to start from but if you want to start from a different side you can choose. you do the work using the auto steer and as you leave the field it saves all info (rate applied etc). This then would need to be exportable from the machine to the office for decision making."
And you, do you agree with this description?
The ULTIMATE ranking of autosteer functionalities based on our survey: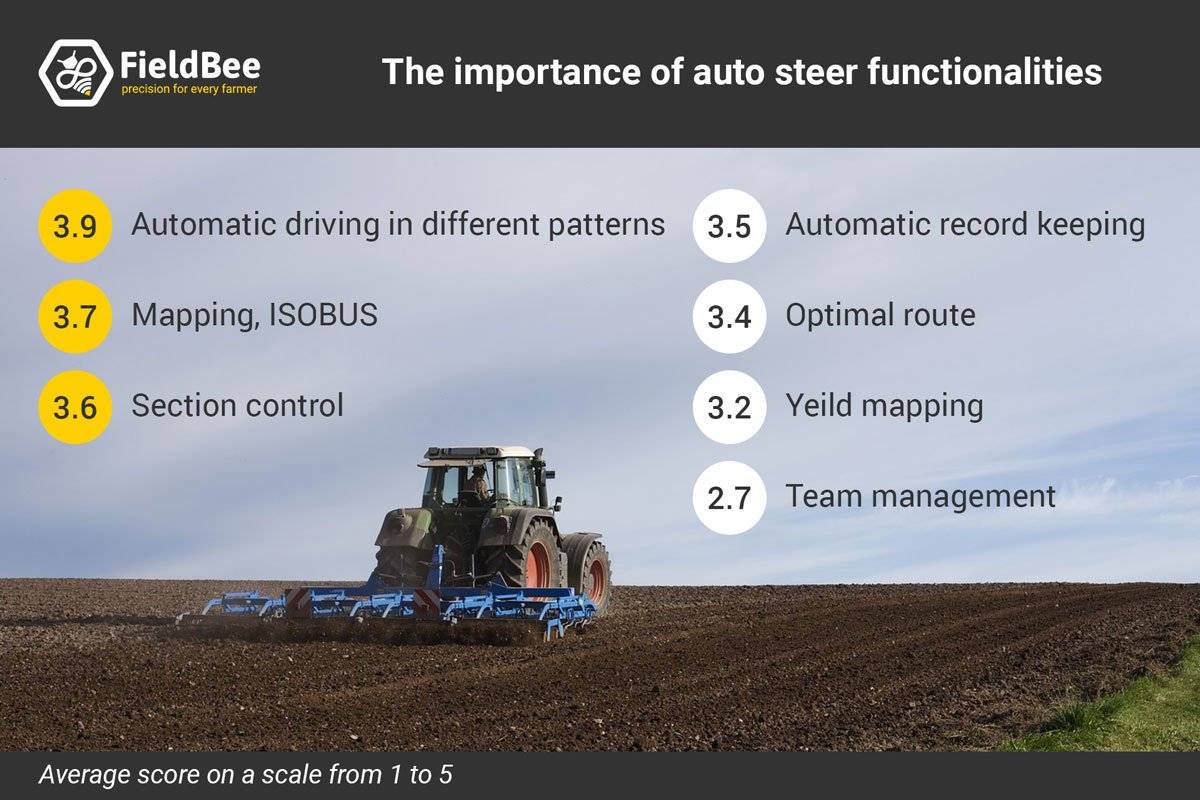 What should DREAM auto steer do?
According to farmers from our comunity…
driving automatically in different patterns
mapping
ISOBUS
section control
and recordkeeping
…are the must-have autosteer functionalities.
Naturally, the most important functionality of an auto steer is the way it assists you in driving automatically in the field in the different patterns.
We received the most comments and suggestions about this functionality. Besides the AB line and curve, the most frequent requests were the possibility to take headlands into consideration, map headland boundaries and swap easily between AB lines. Also to see Saved tracks and to follow them when the farmer is returning to the field.
Mapping is one of the functionalities that farmers find absolutely essential to include in their DREAM autosteer. It provides the ability to add your field to the app, measure its boundaries and area, see crops history, and manage all your field operations and performance per each field.
Many respondents stressed the importance of ISOBUS connectability. Even those who currently don't own any machines with ISOBUS connection keep one eye on the future as the new machines all have this option.
Section control is another innovative way that makes smart farming even smarter and a must-have functionality in an ideal autoster. With Section control farmers can eliminate overlaps and gaps and use the right resources at the right place in the right amount
One of our respondents proposed that the sections should also be graphically presented in the app to make it more user-friendly.
A good Record keeping functionality is also essential for every farmer. It can capture tasks, machines hours, create notes, and track the used resources.
All the available information could make it easier to manage the farm more effectively, be able to make better decisions and to calculate the necessary amount of fertilizers, seeds etc.
Moreover, as farmers need to comply with an increasing number of regulations and submit detailed reports, record keeping is more important than ever.

Some other useful functionalities?
Moreover, many farmers agreed that…
optimal route
yield mapping
and team management
… would be useful additional functionalities.
Optimal route functionality proved to be a bit more tricky…
Farmers know their fields and found their best way to farm them based on the experience they gathered through the years. There can be unmapped features which decide the operator which way to go.
The ideal autosteer system needs to take trees, utility poles and other obstacles into account when it calculates the optimal route. It should bring up smart suggestions to increase effectiveness but provides enough flexibility to the user.
The ability to analyze crop yield and characteristics such as moisture with the help of GPS data would be a useful addition to the system.
Yield mapping is an important part of precision farming that allows farmers to effectively track crop performance and identify problematic areas.
Farms with multiple contractors would also benefit from the Team management functionality to facilitate work and evaluate performance. The system would provide options for assigning tasks and automatically generate performance reports with the help of the collected data.
What else should the DREAM tractor autosteer do?
Of course, our list of functionalities didn't cover everything that you would expect from your ideal system. We have received many great suggestions to make the autosteer more useful.
More respondents would welcome the option of setting audible alerts such as a signal before manual turns.
We learned that the ideal system should be transferable between different machines as some machines only operate for a short period or hired for specific jobs.
But the biggest thing is to make automatic steering affordable. That is a good challenge that we are accepting.
What's next?
We would like to Thank all of you who took the time the share your thoughts with us for the huge amount of help and support. I think we are on the right track now to create a truly amazing tractor automatic steering system.
We will start making it happen. Some of these functionalities are already available with our FieldBee application.
We still welcome any ideas or suggestions about your dream autosteer. You can let us know what you think in the comment section or via email info@fieldbee.com