After launching FieldBee – the first affordable RTK system, we have soon realized that driving with higher precision is good, but what is even better is to make the tractor drive by itself with high precision. Oh, this is a dream of every farmer who uses a tractor. Do you agree with us?
So we decided to ask our community of 120 000 farmers from all over the world how should their dream auto steer look like?
It was great to see how farmers from all around the world came together to share their ideas. It gave us essential insights and set the direction for creating a truly amazing product. We have finally processed the results and are ready to share them with you as we promised.The rapid spread of automation technology in agriculture seems to be the most important trend in the near future. It has the potential to significantly improve the efficiency of field operations and decrease driver fatigue and its impact cannot be overlooked.
Tractor steering system seems to be like the first most important technology that farmers are willing to adopt. But even though such technology is available on the market from 90s, only 3-5% of all tractors worldwide are equipped with automatic steering. Why? Because it used to be very expensive and very complex. Important here is "used to be" because we want to change it. Every farmer should have an auto steer on his tractor! Do you agree with us?
What are the existing automatic steering systems like?
To evaluate the challenge we have asked farmers from our community some questions about existing automatic steering systems and here what we have found out.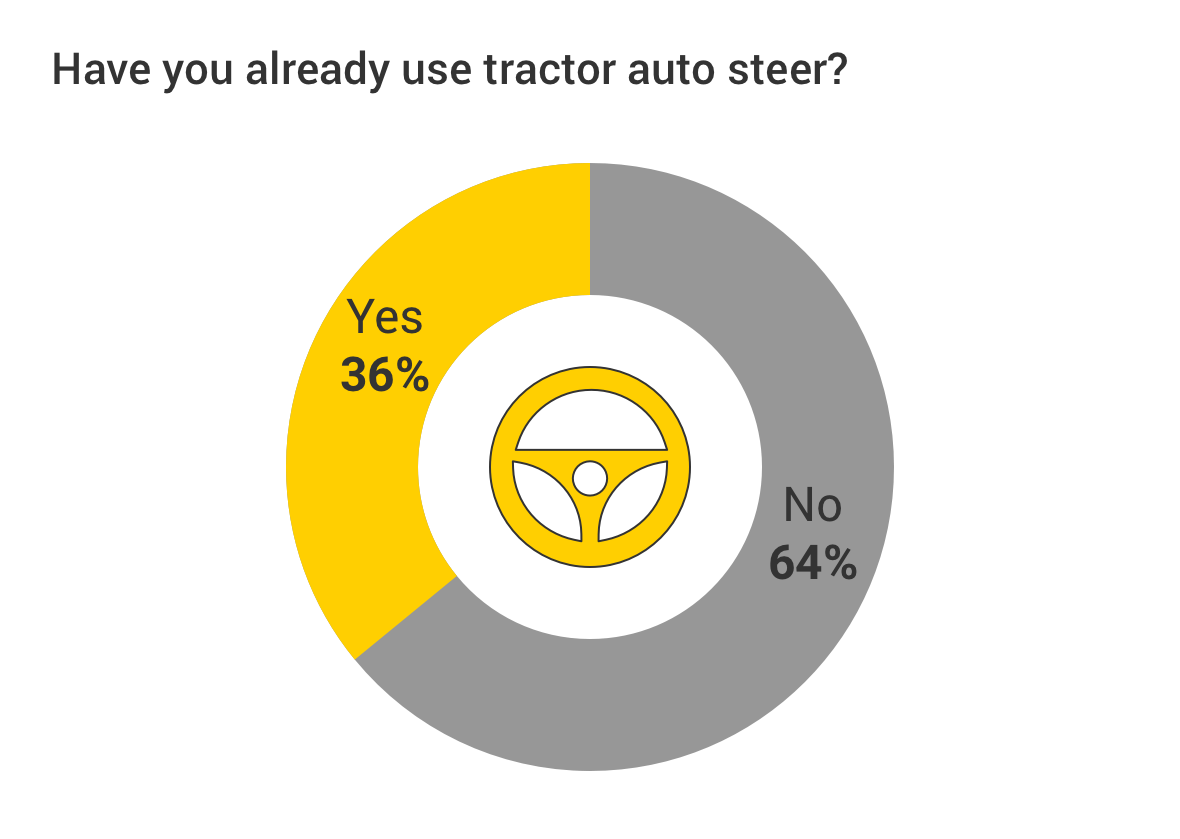 In the first part of the survey, we were focusing on the autosteer systems that are already in the market to see how our new system should be different. It might not be surprising to hear that the majority of the respondents still don't use an automatic steering system. Those who do use it confirmed that the market is dominated by huge companies with the high-priced systems such as Trimble, John Deere or AgLeader.
Those companies have spent a lot of money to create greate systems. But unfortunately, the cost of solutions is very high and only the biggest farms can take advantage of them.
And what should do the rest majority of farmers? Work hard and lose money because of driving mistakes? No.
Among those respondents who do not own an automatic steering system, 59% pointed out the high-price as the reason. Other respondents think they cannot use the system because their tractor is too old (19%) or their field is too small to make it worthwhile (12%). This is a signal for us that we need to develop an automatic steering system that is compatible with all tractors regardless of the age and has a low price that makes it worthwhile to use it even on a small scale farm.
Almost all farmers from our community who shared information about their automatic steering system encountered some issues in the past. The most frequently mentioned problems include inaccuracy, poor reception, too many cables, or impracticality because of the size. Moreover, the systems can be complicated to set up or use (the menu is difficult, not user-friendly interface, too many buttons to press). These problems can be even more frustrating given the high price of the autosteer systems.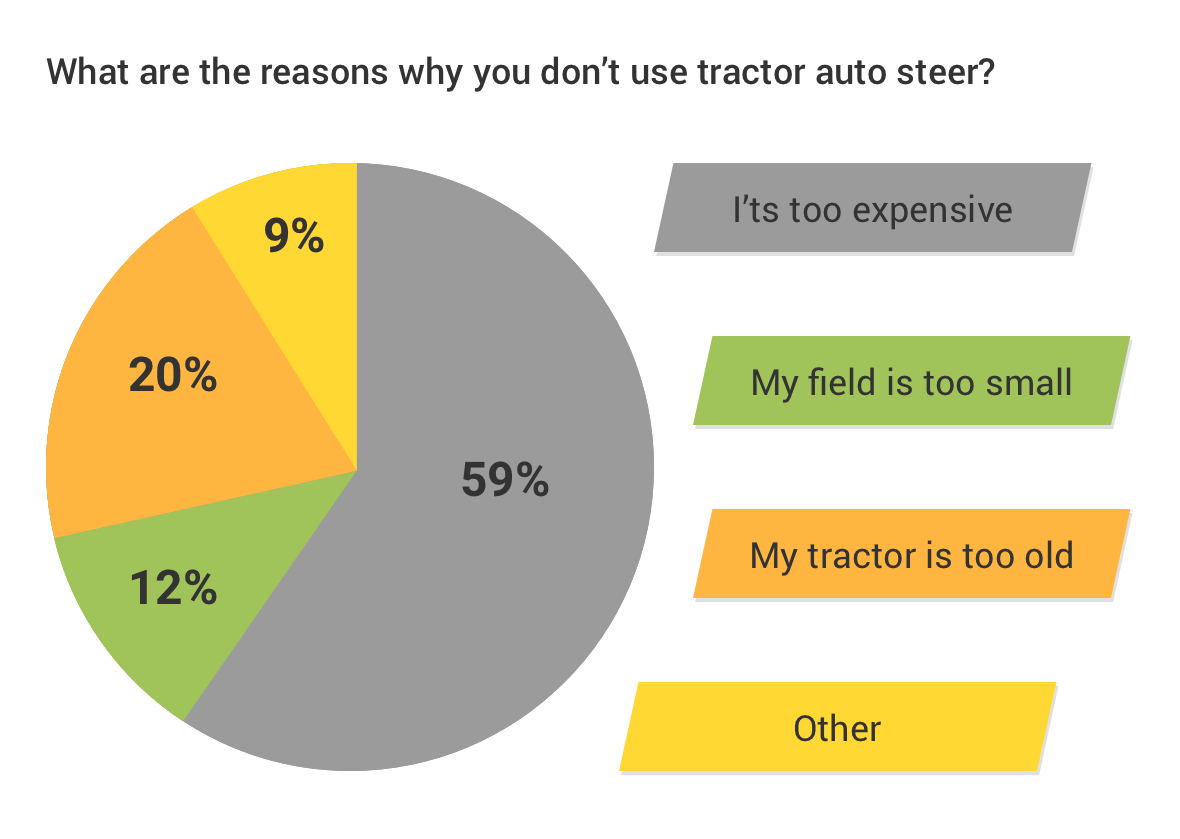 What is the automatic steering system of your dreams like?
In the survey, we also asked farmers to describe the characteristics of your dream automatic steering system. We can conclude that the factors leading to a positive experience are customer-friendly price, high accuracy and stability. Not surprisingly, our respondents are looking for a solution that is easy to install, integrates well with the tractor and other equipment and works in a user-friendly way (simple menu layout, not too many buttons, good screen).The cost is not only a major factor when purchasing an autosteer system, but also when it comes to installation. Many respondents feel that the installation should have a marginal cost or the possibility to do it themselves.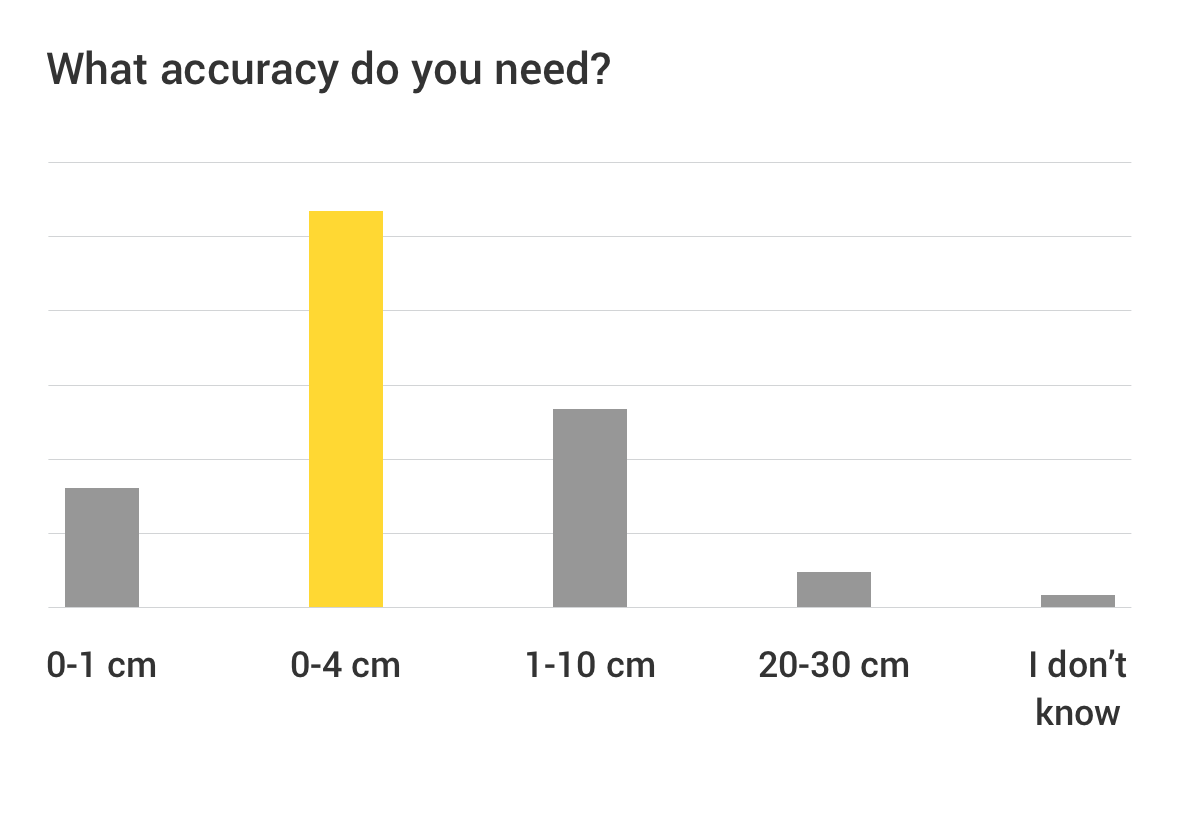 When it comes to accuracy, the more accurate, the better principle seems to apply. There is a huge demand for high accuracy solutions, 0-4 cm being the most popular choice. Farmers do not want to make a tradeoff around accuracy. They simply want the highest one. This level of precision enables GPS receiver to be used with automatic steering. You can check our affordable RTK system for tractor navigation here.
Creating automatic steering systems for all tractors models
Thanks to your help, we could put together a huge list of tractor models and other equipment that helps us develop universal solutions that are compatible with many tractor models. Why was it needed? There are many variations in tractors with significantly different requirements to install a system.
In this article, we presented what you shared with us about the basic characteristics of the farmer's dream tractor autosteer. However, this was just the beginning. Next, we would like to discuss the functionalities that are essential for hands-free driving in the field. Soon you will receive the second part of our survey, but in the meantime, we invite you to join the conversation and share your thought in the comment section or send us an email support@fieldbee.com.