When choosing the right navigation pattern for your field, it is crucial to take field geometry, type of crop, and row width into account. To make a more informed decision when selecting the best tractor navigation approach, you need to be aware of the different pattern types and styles of navigation available to you in the FieldBee tractor GPS navigation app.

In this article, you can read about the constantly growing list of navigation patterns available in our app, find out when these patterns are used, and discover how real farmers use each of these navigation pattern types in their fields.
AB straight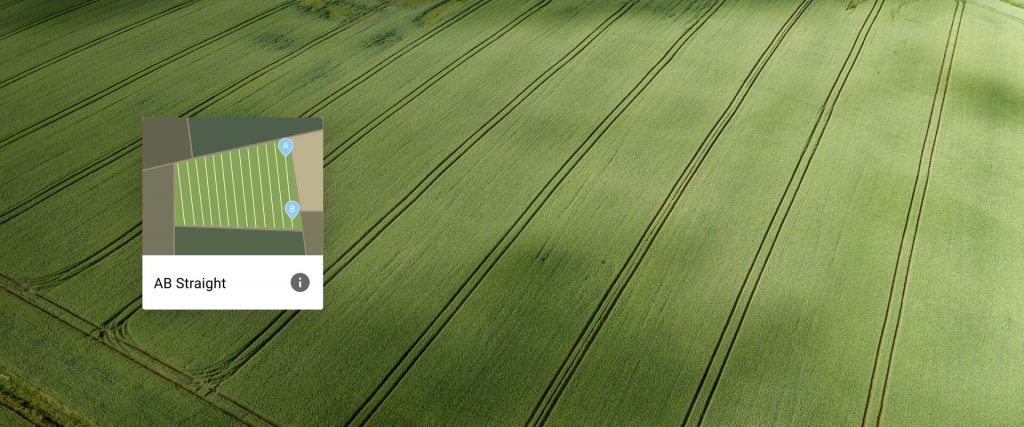 This is the most popular navigation pattern which is applicable for all types of operations. It allows farmers to utilize optimized navigation on the field with minimum overlaps and drive faster along straight lines. You can set up AB points manually or automatically as you drive. This pattern works best on regular shape fields without harsh ends.

FieldBee farmers often utilize the AB straight pattern in controlled traffic farming to reduce soil compaction. Since our app allows users to change implement width and perform AB line shifts, agriculture professionals can drive on the same lines even when they change tractor implements.

Tip: The AB straight pattern also allows you to avoid making harsh 360-degree turns on the boundaries of your fields. Since the FieldBee app calculates and outlines all the lines in advance, you can skip one or several lines after each run and come back to them later. This helps farmers save a lot of time during field operations.
AB curve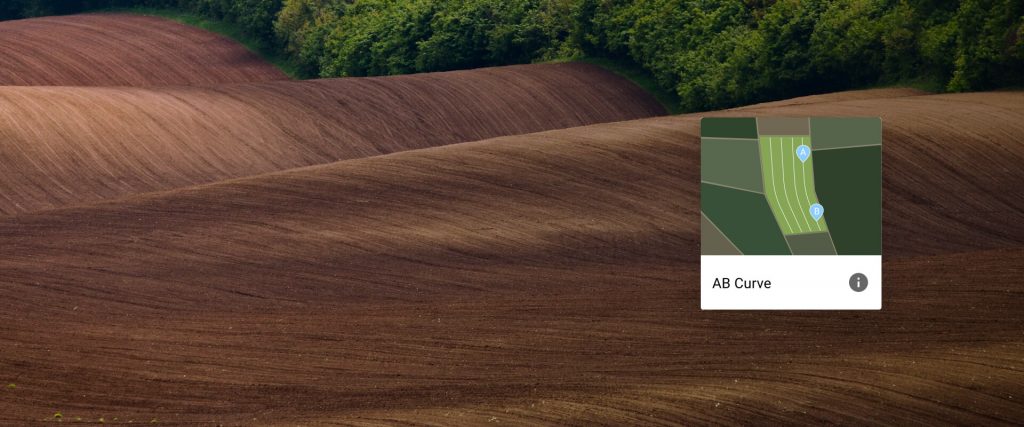 This pattern is best suited for long fields with curves. Imagine that you have a field with only one straight side – then we recommend splitting it into two sections. This way, you can cover the square part using the AB straight pattern and then use the AB curve pattern to process the irregularly shaped part of the field.

FieldBee farmers who work on fields located adjacent to roads and freeways generally use AB curve as their pattern of choice. Even though curved fields are notoriously difficult to work with, you can get an extremely high productivity rate from them by using an autosteer system.

Tip: Curved patterns are applicable to create Headland on fields that have two sides for headland.
Headland Straight / Curve, Multiple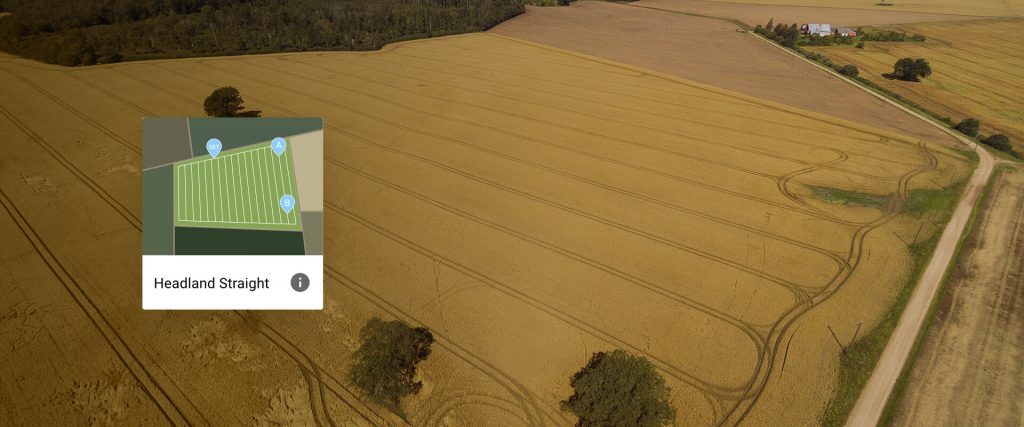 Farmers have two options when working on fields that have headlands where tractors turn around after each run:
One time – this option works the best for spraying operations when you need to drive around the headland of the field only one time and then proceed with the operation inside the field boundaries.
Several times – this option is perfect for soil preparation, tilling, and seeding operations. You can calculate several headlands for the field using this pattern. You may plan up to 7 field lines, which you will later use as reversal lines.;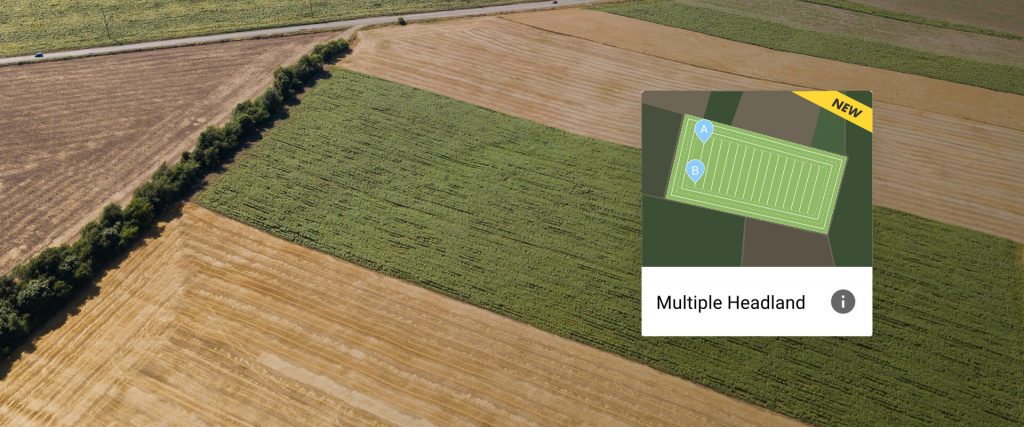 Why is it important to use headland multiple times? You can sow the inside portion of the field and use headland to turn around as many times as necessary. Once you're done with the inside part of the field, you can sow the headland portion. As a result, you can avoid damaging headland soil fertility and improve your crop yields in this part of the field.
Saved track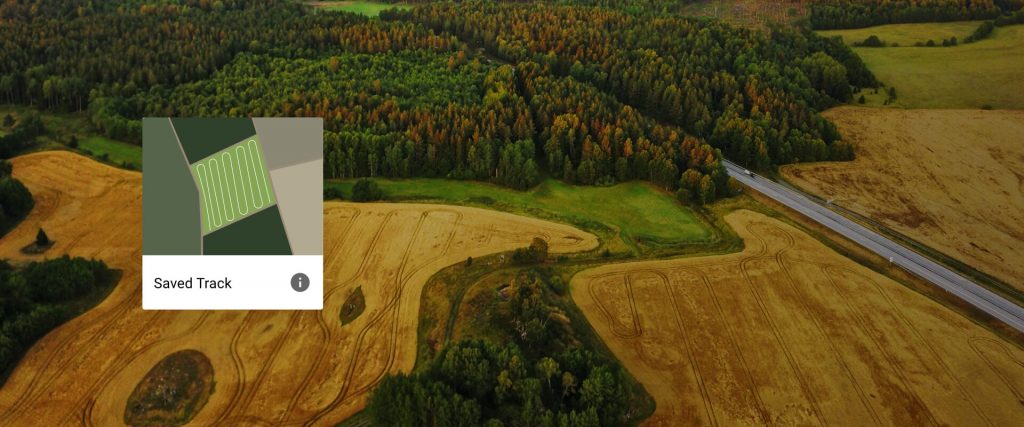 Provide use of previous mode tracks as a reference line for navigation. This option works for:
Oddly shaped fields – if routes that were automatically calculated by the system are too hard to follow for you, you can create your own custom tracks that will be saved in the app for future navigation;
Fields with a large number of obstacles – you can mark obstructions that will be avoided throughout auto driving paths;
Operations where you want to follow the exact track that was used for seeding – just open your saved field track and perform other operations along the same lines;
Precise turns – the app can use your past driving history to show other farm workers and contractors where exactly they need to turn around;
Used patterns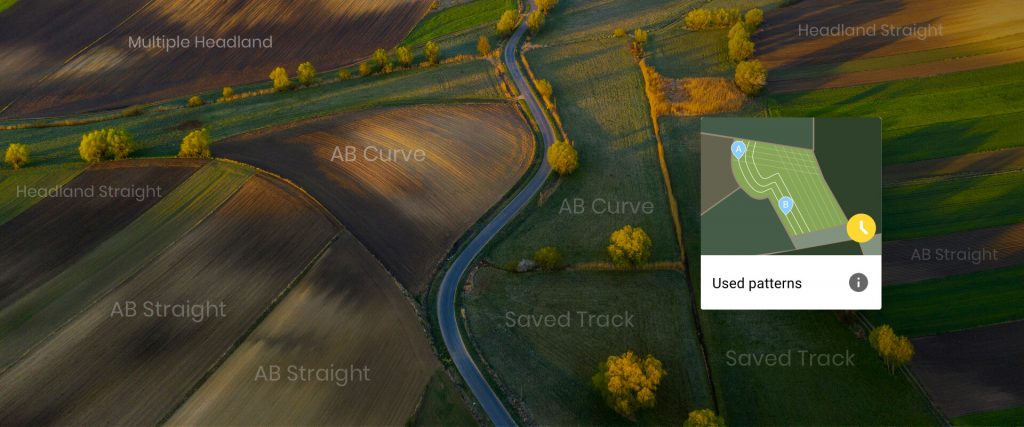 This is a library that contains all AB lines that were used to guide farm machinery during previous years. These patterns can be used for future field operations. So you can return to the same lines every year and even share your patterns with contractors or other workers on your farm.
Line adjustment
Shift lines – you can shift your lines to fit with GPS offset or implement offset;
Change implement width – this feature is useful when you want to recalculate AB lines (only) with different implement widths. You can start a track set with the new implement width.
Different navigation patterns help farmers to divide their fields into proper lines taking into account implement width and seasonal crop type. According to our statistics, 80% of FieldBee app users use the AB straight pattern for all of their field operations because it's easy to use, while 20% of farmers are benefiting from more advanced patterns We hope that this article can help farmers find the most efficient way of working their fields using precision farming technologies. We wish you great yields and a lot of satisfaction from your work!
(!) Visit our
Knowledge Base
for more technical details and take some time to check the news in our blog.
Please let us know in the comments what information about the FieldBee app you want to find out next: how to use tasks, record keeping, mapping, or something else?