It is has been a while since we have introduced FieldBee RTK L1 receiver to farmers during the 2017-2018 years' crowdfunding campaign. Again, many thanks to everyone who has supported us back then!
While the number of FieldBee customers is growing we have started to receive more and more feedback that this product has some limitations and does not satisfy all the farmers' needs.
It turned out that the FieldBee RTK L1 system is ideal for farmers that have flat fields without high trees and power lines. Otherwise, the system was losing RTK signal and farmers had to wait until it is restored and sometimes for quite a long time. No need to tell you that time is money, especially for farmers during the season!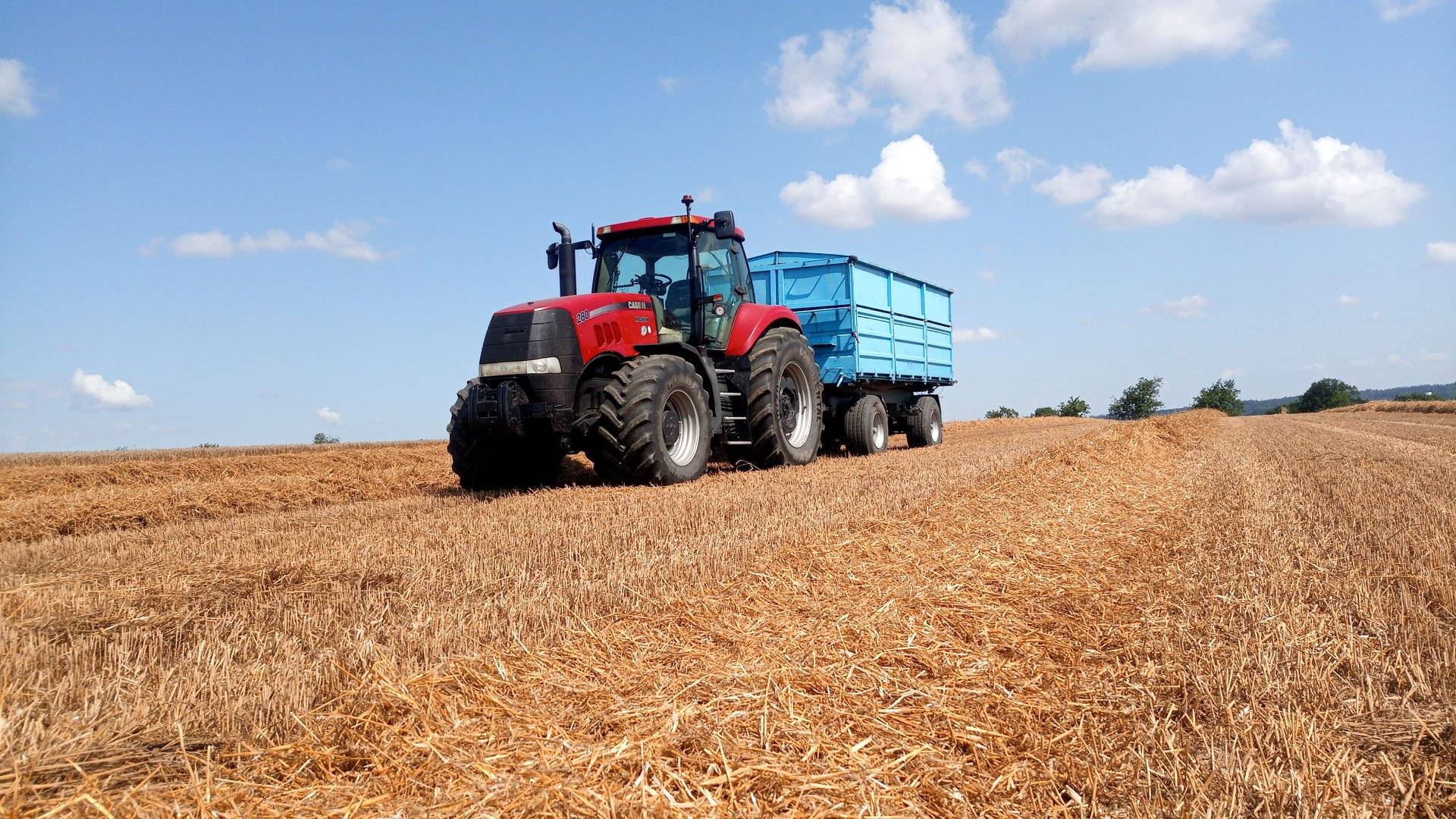 So what should farmers with hills, obstacles on their fields do?
Due to the technical limitations of L1 technology we could not offer a perfect solution. And we were not happy about it at all, as our mission is to make precision available to every farmer!
At the beginning of this year, our great team rolled up their sleeves and has started to work on a new challenge to develop the new FieldBee antenna.
And now we are happy to announce the new FieldBee RTK L2 receiver that can now satisfy all the farmers' needs. First affordable RTK L2 receiver that is created especially for farmers.
FieldBee RTK L2 tractor navigation system is perfect for:
Hilly fields
Distances of more than 10km between a base station and fields
Fields that are surrounded by high trees (? Finland), buildings and power lines
NTRIP providers such as Sapos/Flepos
Autosteer
+/- 1 cm accuracy (20-30 cm accuracy without RTK signal)
What is also great about FieldBee L2 antenna that it has a great price, works with your smartphone/tablet and is easy to use.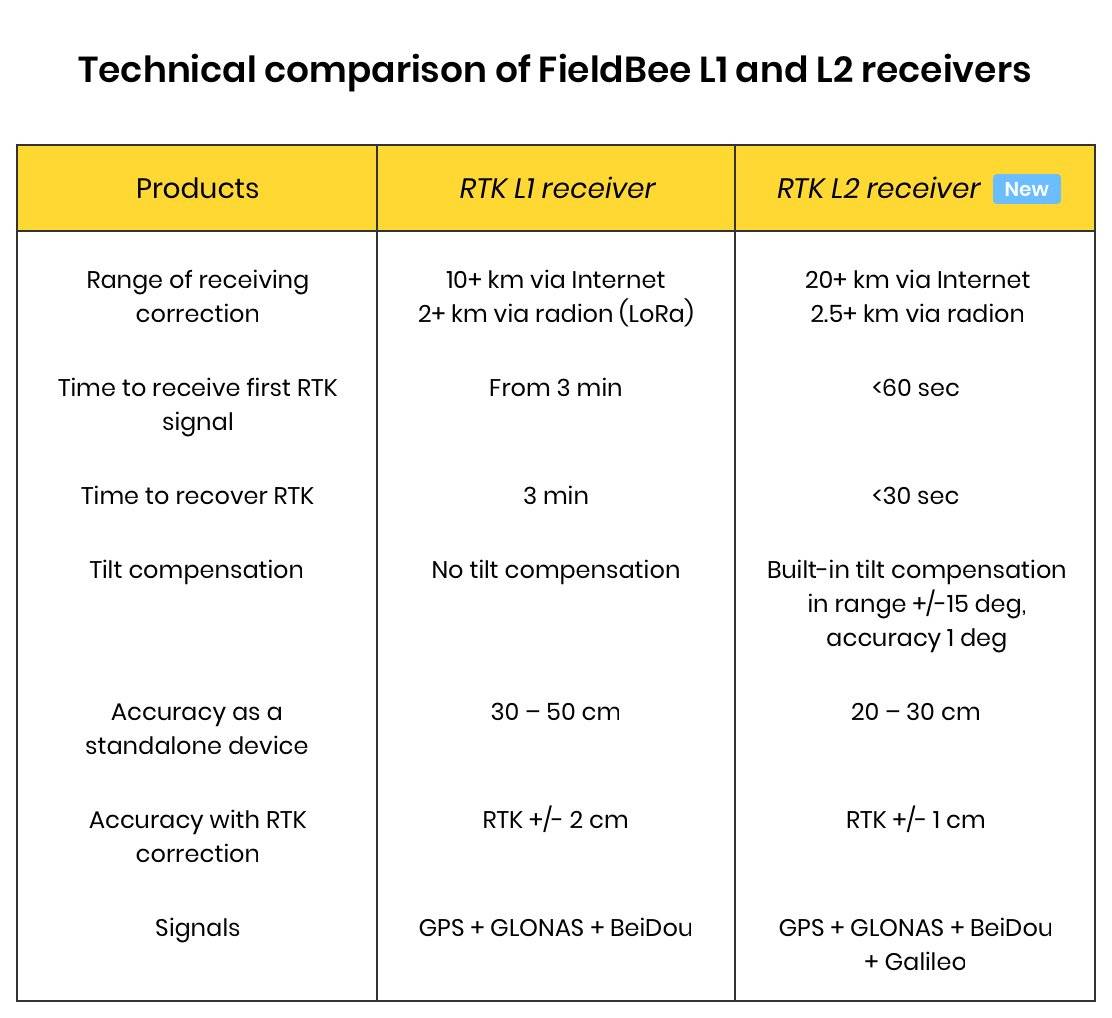 6 features of new FieldBee L2 receiver that you should know about
It has a higher range of receiving correction
It works better with NTRIP providers such as (SAPOS, FLEPOS) because their stations are often located quite far from each other.
Suits for farmers with big fields and when fields are scattered more than 10 km from each other. No need to carry FieldBee Base station into the fields every time. It can be stationed on the roof of the house/barn.
Fast RTK fix – with L1 receiver getting the first RTK fix (when starting up the system) could take form 3 and even sometimes 10-20 minutes. With L2 you can start your work with high precision already in 1 minute. With a new antenna, farmers can perform field operations faster.
Faster RTK signal recovery
With L1 receiver in case of a lost signal, it could take up to 3 minutes to recover RTK signal. No need to explain how frustrating it is when you are in the middle of the field and RTK signal is lost and you need to wait for long-long minutes for the signal to be restored. Now no need to waste your time!. You can perform field operations faster.
Built-in tilt compensation
With L1 receiver the accuracy of the system was deteriorating on hilly hills due to the cabin shakes. L2 has a built-in tilt compensation sensors that will keep your tractor on a line with high precision even on hilly fields.
Higher accuracy
With the new antenna, you can achieve higher accuracy in the field with and without RTK signal. FieldBee L2 antenna shows up to +- 1 cm accuracy with RTK signal and 20-30 cm accuracy without the correction, that is ideal for most of the farmers.
Faster and stronger signal
New FieldBee L2 besides GPS, GLONASS, BeiDou receives signal also from the European Galileo satellites. Now you will not lose a signal under the trees, high buildings, power lines and other obstructions. That also allows to achieve a more stable work with the autosteer system.
Other advantages of FieldBee RTK system:
Works on batteries up to 8 hours;
Remote support;
Regular updates;
No need to purchase expensive terminals.
Do you like our new antenna? Don't miss an opportunity to get it before the new season!