Сost-effective, independent and efficient guidance system
Klaus Künzig and his wife Daniela run a part-time agricultural business with 30 hectares of arable land in the district of Würzburg. The trained cutting machine operator is constantly on the lookout for new ideas and innovations that make his work in the field easier and create more time for his three children.

For several years, he has relied on the autosteering concept from FieldBee, which he can apply to his four tractors – regardless of the size, make or year of construction. This has proven to save operating resources such as diesel, crop protection or fertiliser and, above all, time.
The Bavarian pioneer farmer
Klaus Künzig was one of the first test customers of the FieldBee autosteering system in 2017. "Right from the start, I was enthusiastic about the use of smartphones or tablet PCs without manufacturer-specific operating terminals," Künzig reports in retrospect. He was able to install the software and later updates very easily via the app.
In addition to the app, the FiedBee package includes a corresponding RTK L1 receiver, which was specially developed for the smartphone solution. In parts of Bavaria, as at Künzig farm, the system can be used in an uncomplicated way with the Sapos signal, which is available free of charge. This satellite positioning service of the German national survey enables centimetre-precise positioning via GNSS satellites.

"After a short introduction to the system at the beginning, I was able to familiarise myself with the technology really quickly," says Künzig. The "child's play" operability is one of the advantages he appreciates about the system. At harvest peaks, for example, a helper could be trained in no time and take over the technology. "Right from the start, I particularly liked the fact that I can contact the support team at any time if I have questions and get help quickly" says the 46-year-old farmer.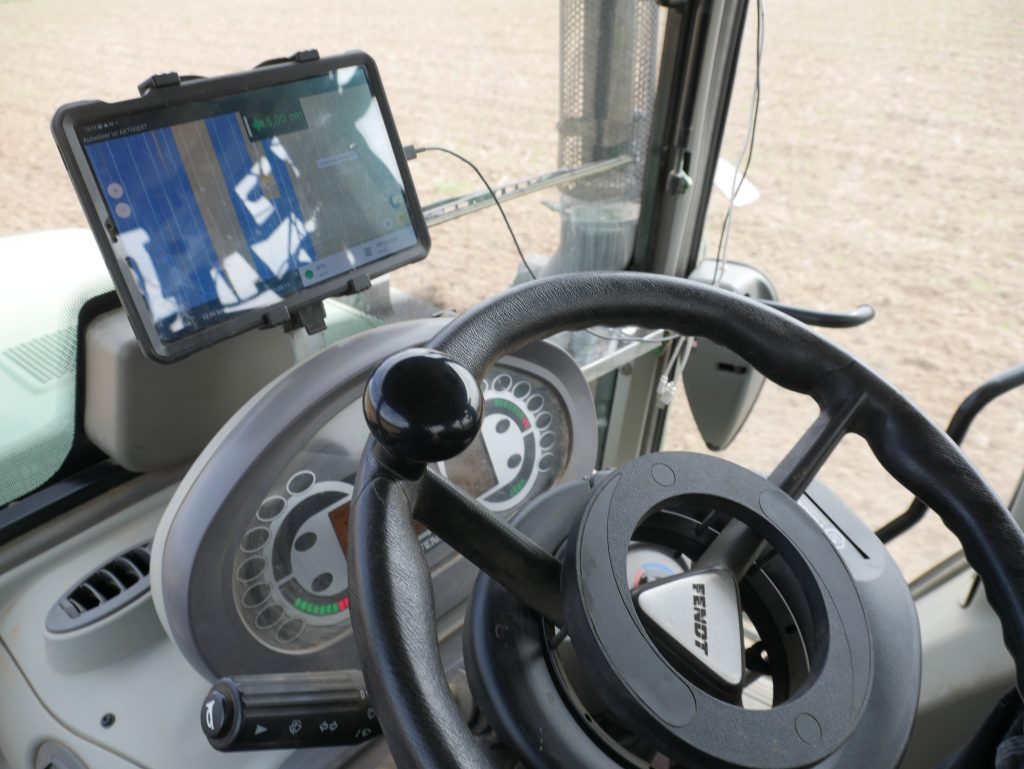 Everything in view
"The FieldBee system also makes my work easier because I can document all field work and import common field maps into the system. This also gives me an overview of the operations that have been carried out," says Künzig. "Synchronisation between my various devices, such as the farm PC, is also easy. For example, I can enter seed and fertiliser quantities and conveniently complete obligatory records in the evening while sitting on the couch," explains Künzig.
Profitable?
"Autosteering is worth it! It enables me to farm with absolute precision and thus more efficiently even as a part-time farmer. As a result, I evidently save not only resources such as diesel, crop protection and fertiliser, but above all time!" said Künzig. He estimates that reduced overlapping saves about 10 percent of his time. Overall, the system is also very flexible to use, he said.

"Even on my 1967 Fendt Farmer, I stay on track. Within ten minutes, the system can be changed over to another tractor. With a little practice, it could certainly be done even faster," says the farmer.
One more track ahead
Since this year, Künzig has also been using a second generation RTK L2 receiver together with an automatic steering system. "The new low-cost GNSS receiver provides even better signal reception. Thanks to the automatic steering system, we can work even more precisely and achieve track-to-track accuracy of up to one centimetre. I quickly got used to it and wouldn't want to do without the system!" concludes Künzig.

Klaus invites all farmers who want to know more about experience of using an Autosteering system.