There is nothing better than being on-hand to meet our dear customers and people from all over the world that are interested in FieldBee products.
That is the reason why we chose to participate in Agritechnica – one of the biggest agricultural shows in the world. Now, we are happy to share our incredible experiences and successes that we accomplished during the six days of the exhibition.
How we met our customers?
Visitors and our customers from all over the world came to meet us and were welcomed by the team of our experts who were willing to show them and explain how our products work.
Starting from the first day of the exhibition we have realised that we are not well enough prepared. We didn't expect that our booth will be so busy. We needed more people to talk to visitors. We needed help. And as usual, we got help from our dear customers! We are very thankful to Georg and Dominik who came to help us at the booth. They shared their own experience of using FieldBee products.
We showcased FieldBee tractor GPS app, new L2 receiver, RTK base station, and Autosteer system and Dominik and Georg talked to visitors and explained how they can use and connect all FieldBee products in the field. They showed different features of FieldBee tractor navigation app, how to install and use autosteer with it, and what precision and signal range farmers can expect with FieldBee receiver and base station.
"I was really happy to meet FieldBee team and help them by talking to visitors and explain how the system works in my field. As a farmer, I believe that it is important to tell my story, personally show how I work with FieldBee and help other farmers understand everything they need to know about the system. It was a great experience for me and I would love to furtherly help potential customers. They can contact me and I will be happy to help." Dominik Diesmayr.
They gave attention to each visitor and truly enjoyed telling in their own words how FieldBee works in different fields. Visitors were especially interested in hearing their personal journeys which gave a special charm to the whole exhibition.
"People want to hear how FieldBee products work in the field and who can give them a better guide than a farmer who is already using these products. It was really nice to meet the whole team and it was a pleasure talking to other farmers and telling them how I work with FieldBee." Georg-Friedrich Buchholz.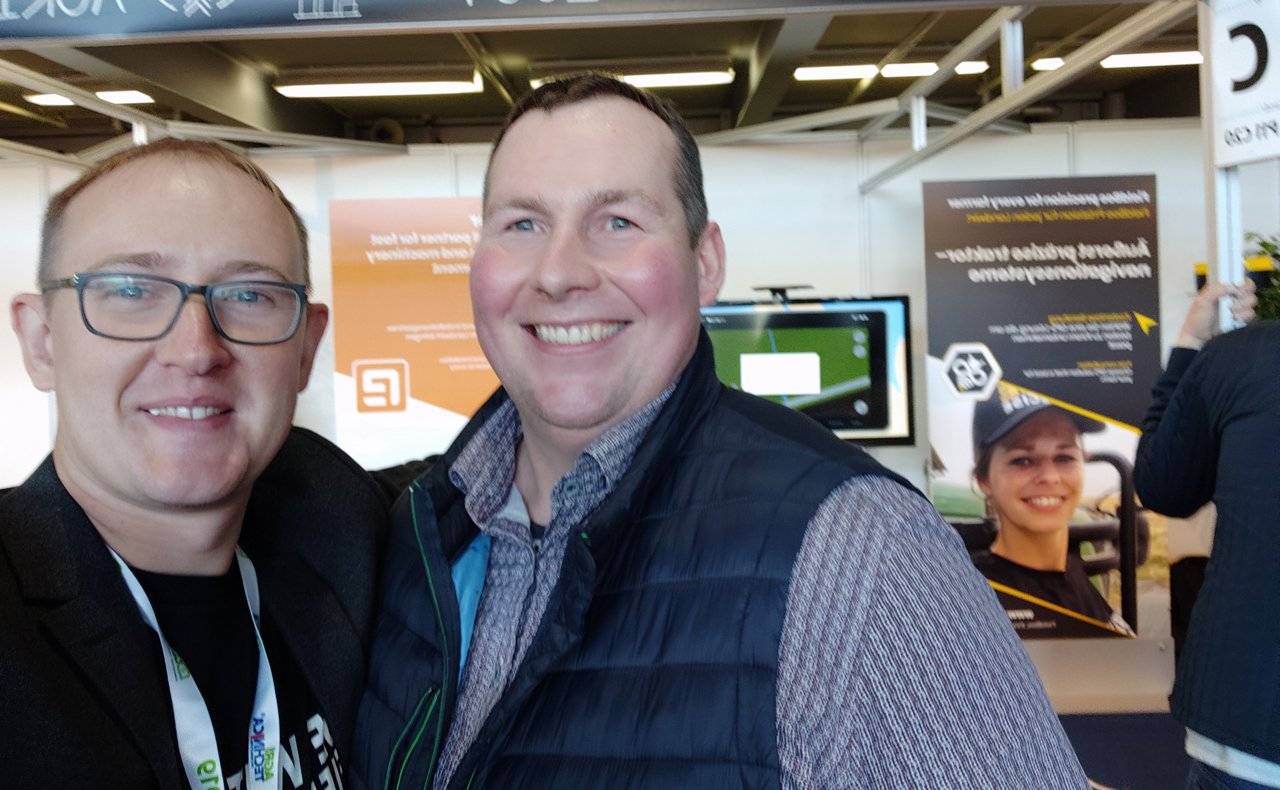 How we launched our new L2 receiver and Autosteer offer
Our new L2 receiver raised a lot of interest within current and potential customers. Especially when they heard how they can work with faster and stronger range, on hilly and big distanced fields while still achieving up to +/-1 cm precision.
"I am very satisfied with the FieldBee L1 receiver. But now that I saw that L2 can give me even higher precision, I want to buy it as soon as possible." Jan Lausen.
They were impressed with everything L2 receiver has to offer and immediately wanted to improve their precision and range in the field. The affordability of the L2 receiver gave them an extra push to buy it as soon as possible at only 899€, since the price will be changed from the 1st of December.
"I already use the L1 receiver but now I am interested in getting even higher precision. Seeing what L2 receiver has to offer, I definitely want to buy it." Volker Schuler.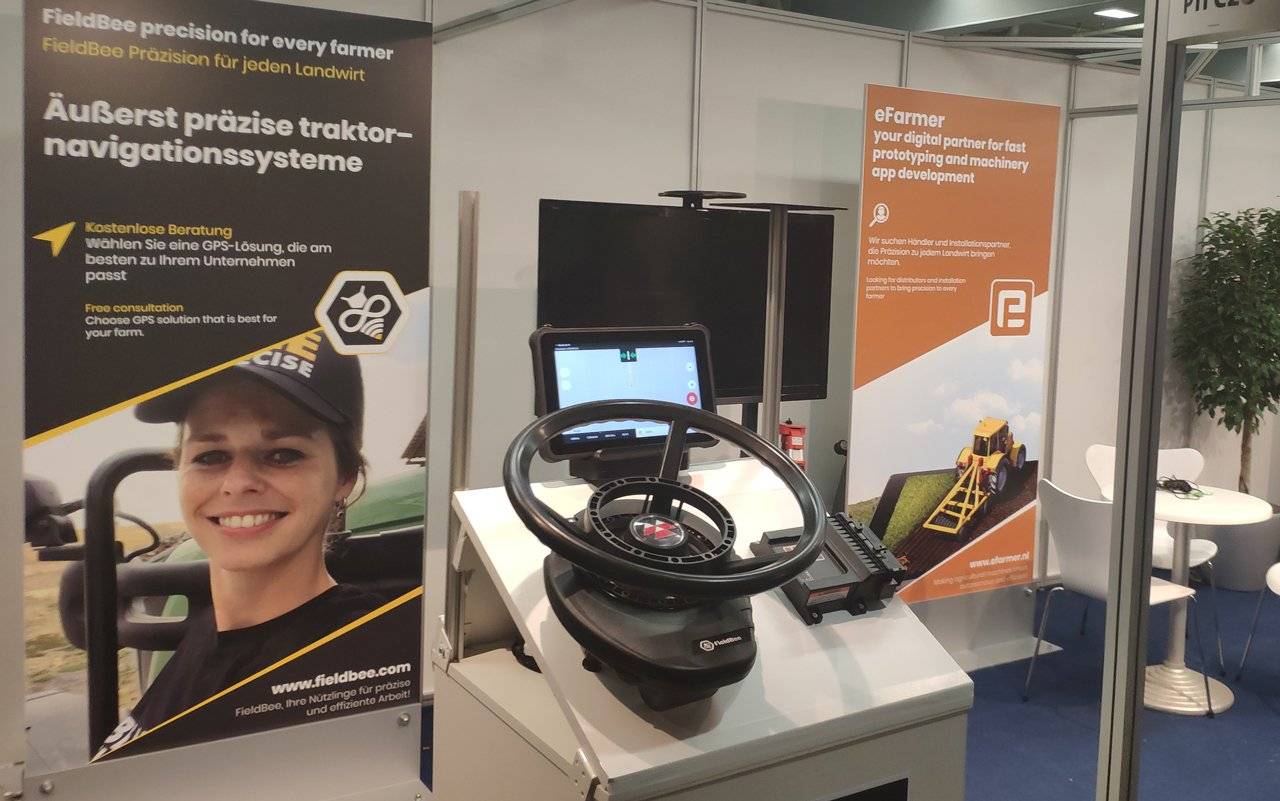 Our new Autosteer offer equally raised a lot of attention, especially to customers who did not have the whole precision farming equipment. Visitors and customers were able to see and try our autosteer with the help of our experts and customers.
"FieldBee autosteer system offers the same quality as other systems and it saves me a lot of money. I want to buy three for my farm." Hossein Morvaridi Farimani.
What made them very happy, was to hear that they can get FieldBee app, the newest L2 receiver and autosteer with this offer while achieving +-1 cm accuracy in the field starting from 5499€.
"I need the autosteer system for two tractors and this offer seems like the best one. I can use it on my new and old tractor, get the precision I need and still afford it." Markus Volker.
What else did we share with our visitors?
We also introduced to visitors our successful project that we did in partnership with the HuzingHarvester team. Our CTO explained how we made a self-driving harvester in only two months and visitors were excited to hear that we achieved such a result in short notice.
Finally, we were excited for being invited to the press conference for agricultural media where we talked about our company and products. Journalists from different countries were interested to learn everything about eFarmer and FieldBee because of our great goal of providing affordable solutions for farmers all over the world. We received many positive feedback and support from the journalists, who are pleased to write about us in their future publications.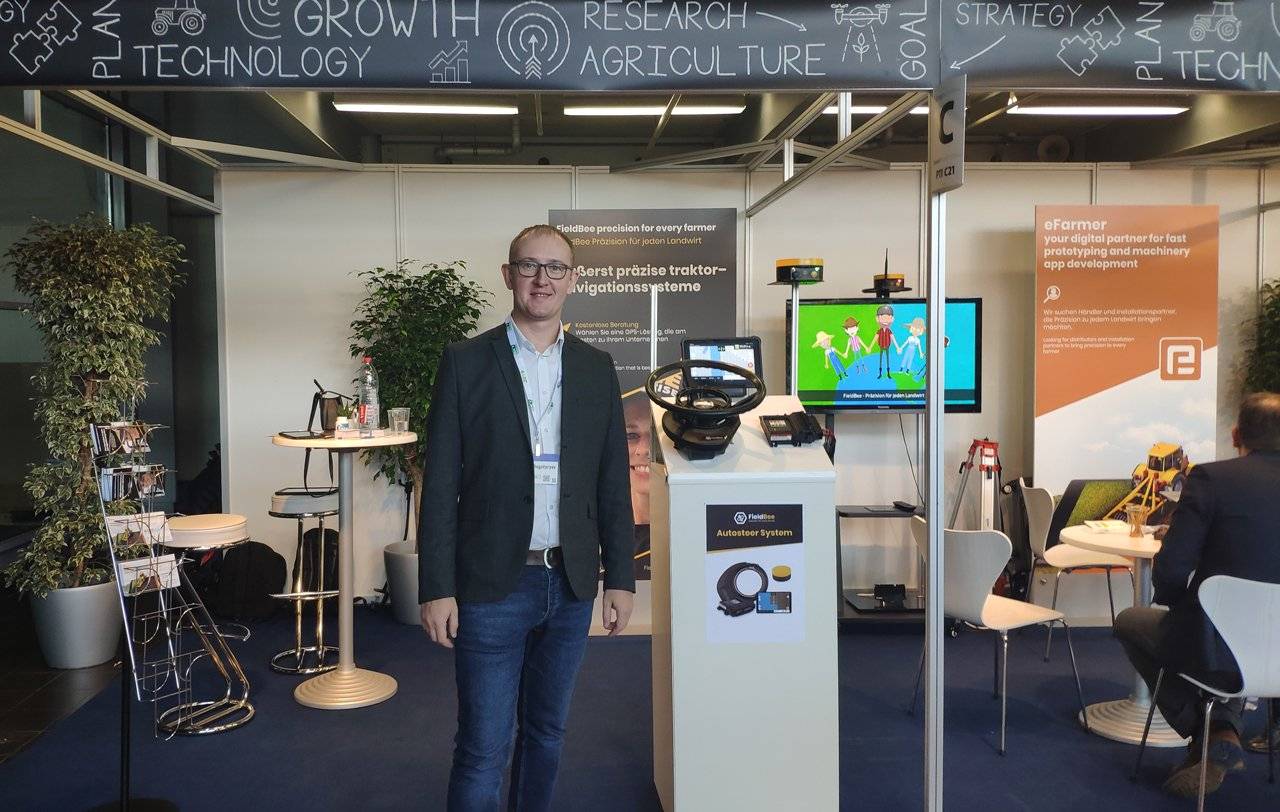 Conclusion
We are very happy that we have participated in the exhibition.
It was a great opportunity to see our customers and to hear feedback about our products.
"It is a good product. You need to continue with your work", – was a feedback that we took home with us. And we promise to continue to make precision available to every farmer in the world.